French and Indian, Revolutionary War, 1812, Tinware, Tin Ware, Lantern, candle Holders, Oil Lamps
---
C & D Jarnagin Company

The Tin Shop
Candle Holders and Lanterns
---
Our tin shop is world-famous for its quality and craftsmanship. In addition to canteens and cartridge box tins, we have a nice variety of other handcrafted products. These items are all hand-made here by experts.

The craft of the tinsmith (or tinker) is fast disappearing. Many of the these items are hand worked, hand soldered, and riveted - true to the tinner's art of the past. We do make the concession of using lead-free solder on the joints of items which may be used for food and drink.

Lead free solder is used for food and drink. Lead free sholder has a lower melting point; therefore, it is important to keep items 1/2 full of liquid when cooking over a campfire.

For outdoor use you can spray the tinware with a clear polyurethane. This will lessen the rusting process.
---
Candle Holders and Lanterns
#432 Small Candle Lamp with Glass Chimney $29.36
This simple lighting item can be carried in the haversack without the chimney or used in camp with the chimney. The center has a candlestick base. The outside edge prevents wax drip. It may be painted and decorated. Comes in handy in the modern world when the electricity goes off.
4" in diameter with a glass chimney.

---
#434 Tin Tinder Box with Candle Holder $48.94
This candle holder and tinder box provides an authentic way to carry candles, matches, punk, flint and steel, etc. within the box and use the candle holder on top.

4" diameter x 2 3/4" high.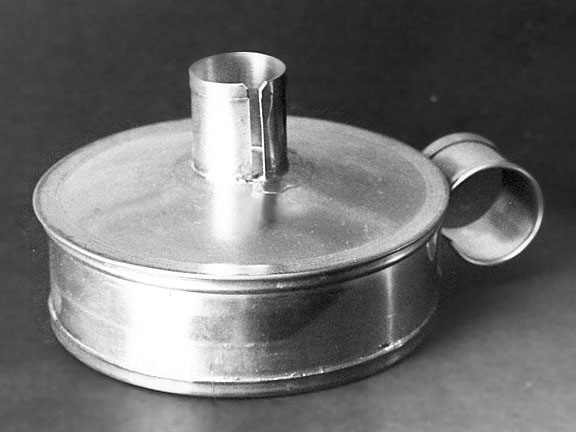 ---
#435 "Betty" Lamp (for Oil) $67.50
This small gourd shaped lamp has a hinged lid, a handle with a hook for hanging and a chain with a wick pick. Furnished with a wick. Use only oil such as Everglow by Dixen Enterprises. Keep your wick down to eliminate smoke and you can enjoy period lighting at its most nostalgic.
---
#436 Pedestal Style Oil Lamp $83.70
For use on the desk or table, this style lamp represents another of the most popular basic styles used in the 19th century and earlier.
Furnished with a wick and pick. Do not attempt to use anything like kerosene or lighter fluid. Only the most mild lamp oils are
safe. Originally, they used whale oil because of its purity and cleanliness.
4" in diameter X 4 1/2" high.
---
#437 Conical Oil Lamp (Hand Held) $52.99
Similar to an example in the Henry Ford Collection, this little gem provides a small, sturdy lamp which may be easily carried. Furnished with a wick and pick. Extreme care should be exercised in using these lamps. While the lamp oil is flammable only at the wick, you do have an open flame.
---
#311RW Petticoat Candle Holder $25.65
This small candleholder is useful both in camp and about the home as the ideal period light. It is hand crafted in our shop following a popular period design.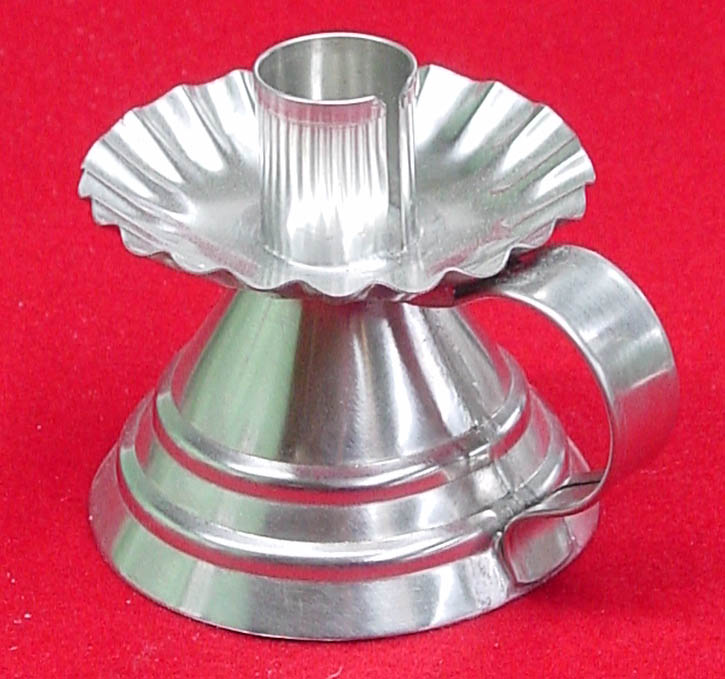 ---
#309RW Adjustable Candlestick $54.00
This candlestick has an adjustable feature which allows for candle storage in the stick. More important, by only allowing a bit of the candle to stick up, the body acts as a heat sink making candles last longer. (A.K.A "Courting Candle" You can determine the length of your daughter's suitors stay by positioning the candle to burn a short time or long time depending on how much you like the feller!!!)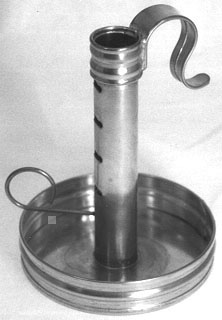 ---
#433 Large Rectangle Candle Lantern $94.50
This lantern seems to be the standard item of lighting in living history today. Three sides are of glass and a tin reflector is the back, giving weather-proof lighting. The lantern may be painted and decorated as was most often done in the past.
5" x 5"x10" high.
---
#305RW Colonial Candle Lantern $108.00
From the F.J. Kravic collection, as shown in the Encyclopedia of the American Revolution. This large lantern is the one chosen by the National Park Service for us to make to light the "George Washington Birthplace National Historic Site."
The lantern is 12" tall and the base measures 4 1/2 inches square.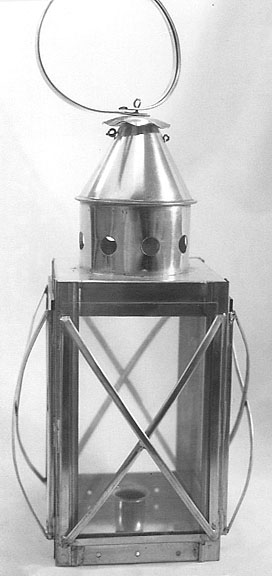 ---
#306RW Tin Hand Lamp for Candle $76.95
This glass fronted candle lamp is similar to examples found in private collections and our collection has one lamp with the "cold handle" made exactly the same. This is a very useful item for camping and the ring in the top allows it to be suspended as well as being set in place.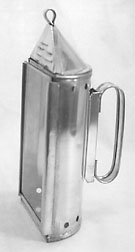 ---
#307RW Tin Sconce/Lantern $52.58
This lantern is designed to be used as hand lamp and mounted on the wall when needed. There is a slotted hole in the back of the handle to allow the lantern to be hung from a nail. The patterns for the design came years ago from a National Park.
The lantern is 7 1/2" tall and 2 1/2" diameter and comes with a glass chimney.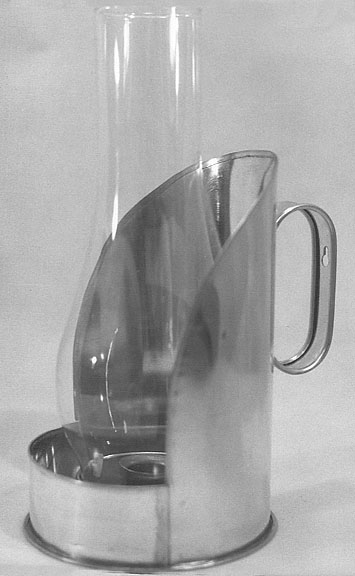 ---
#303RW Tin and Glass Candle Lantern $244.28
This is the most intricate piece of work- the most pleasing lantern we have made. It will do as well for household or for tent lighting. It is over 13" tall. As with all our tinware, this item is hand made of heavy gauge material.
(Allow approx 6-8 weeks for delivery on this lantern. Quality takes time!)
---
#317RW Triangle Tin Lantern $94.50
This lantern has a triangular form with a tin back and two angled glass windows protected by wires.
Each side measures 6" and it is 15" in height including the circular hanger.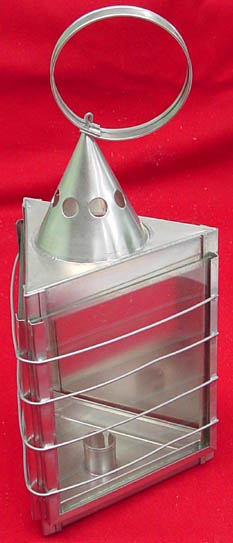 ---
On line French & Indian,
Revolutionary Period & War of 1812
To place an order ...Click Here!

*Check on the Status of your order HERE.
Phone (662) 287-4977 * Fax (662) 287-6033
Mail: --or -- UPS:518 Wick Street, Corinth, MS 38834
---
Happy Reenacting!

©1997-2014 All Rights Reserved and Owned by C&D Jarnagin Co., Inc.