French and Indian, Revolutionary War, 1812, Cups, Cookware, and Plates
---
C & D Jarnagin Company

The Tin Shop
Cups, Cookware, and Plates
---
Our tin shop is world-famous for its quality and craftsmanship. In addition to canteens and cartridge box tins, we have a nice variety of other handcrafted products. These items are all hand-made here by experts.

The craft of the tinsmith (or tinker) is fast disappearing. Many of the these items are hand worked, hand soldered, and riveted - true to the tinner's art of the past. We do make the concession of using lead-free solder on the joints of items which may be used for food and drink.

Lead free solder is used for food and drink. Lead free sholder has a lower melting point; therefore, it is important to keep items 1/2 full of liquid when cooking over a campfire.
---
Cups
---
#414 Early Army Cup (to 1851) $43.85
Best quality. These cups are made of very heavy material. The top edge is wired; the handle is wired to the top and riveted to the bottom. This was the soldier's best friend. It was often used to boil coffee or make a stew. These tapered cups in one type or another go back to the beginning of tin ware. Used by the US Army until 1851.

4 inch base, 3 3/4 inch high. Holds approx. 16oz.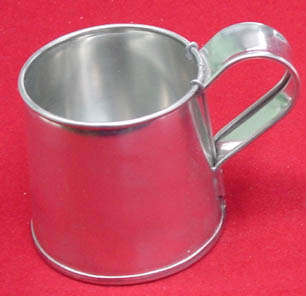 ---
#300RW 18th Century Tin Cup $27.00
This heavy tin cup has wired edged and riveted handle, like the originals found at Revolutionary War sites. You can warm your coffee (or tea, if you please) in the fire without fear.
3 5/8" base, 4" high. Holds approx 12 oz.


---
#RW315 Ft Ligonier Cup $33.75
This heavy tin cup has wired edged and riveted handle. From examples found in the Archaeological Investigation of Fort Ligonier.
4" base, 3"high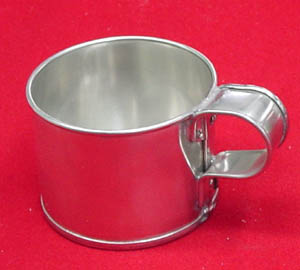 ---
#310RW Tin Tankard $51.98
This tapered tankard is 6 1\2" tall. It will fill the bill for house wares pilfered by passing troops or a gentleman's mess. Executed by our tinners to be a sturdy item intended to give many years of use.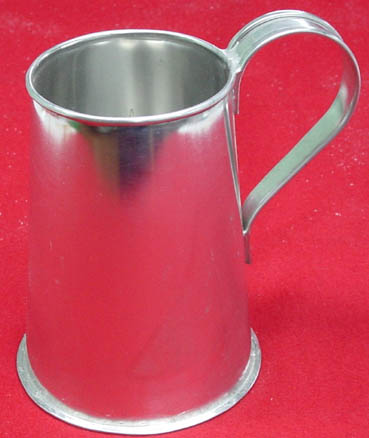 ---
#AB457 18th Century Ale Boot $108.00
This is not, we suspect, the name the Colonials used for this most useful handmade tin item. Original examples show up from time to time in museums and collections. We carry one in the field because it is the handiest and quickest way to boil water for beverages such as coffee and tea. Just shove the point into the fire, the water is boiled quickly and you can still handle the container. One thing is certain, it provokes an amazing amount of interest and comment.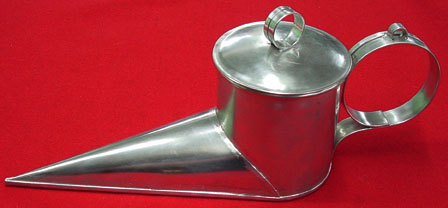 ---
#417 Coffee Boiler Covered Cup ("Billie Cup") $67.15
These cups are slightly taller than the Army Cup and have a domed lid which is both soldered and riveted to the cup. They have a lift ring on the top and a bail handle for use on the cook fire. All soldered tin ware should be over half full of liquid when placed on the fire, an it should be removed when the liquid boils. To simmer, set at the edge of the fire. This is one of the most popular products we make.
4 inches x 5 ¼ inches. Holds 24oz.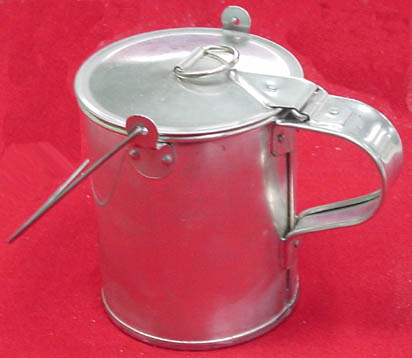 ---
Cookware
#301RW 18th Century Coffee Pot $74.25
This coffee pot represents one of the most common types of the 18th century. It is made of heavy tinned iron, soldered with leadless in solder. Those who know our tin ware need no other assurance of quality, even though the price is much lower than other similar goods offered elsewhere. This pot is 12" tall, and the bottom is 6" in diameter.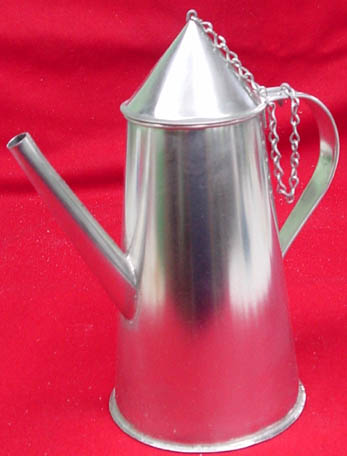 ---
#CP455 1820's Period Coffee Pot $81.00
This coffee pot is copied from and original dug in a 6th US Infantry camp dated 1820.

---
#421 Small Camp Pot $65.60
As seen in photographs and taken from an original example, this small pot is another of those items which saw service both in civilian life and in the military. Our example has a domed lid and a wire bail. Good for one or two man soups and stews. By tying the lid down, food and other goods can be carried in these pots suspended beneath a knapsack.

6 inches x 4 3/4 inches high. Holds approx. 64oz.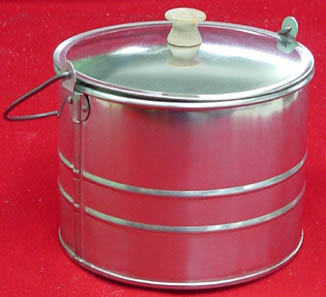 ---
#422 Large Camp Pot $73.60
More often seen in photos than the smaller one (#421), this is essentially the same pot except it is taller, with correspondingly greater capacity.

Has domed lid with a bail handle. 6 1/4" X 8 1/4" Ht. Holds approx. 96oz.

---

#422RW 10 Quart Mess Kettle (Without Lid) $74.25
#L422RW Tin Lid for Mess Kettle $18.83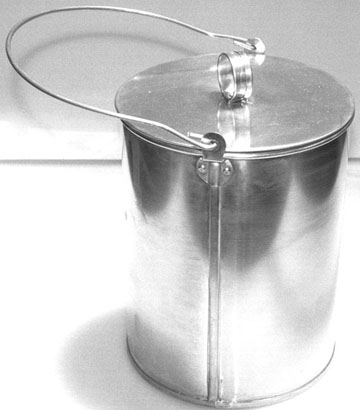 ---
#TP1106 18th Century Trekking Pot $35.78
Our 18th Century trekking pot with removable lid and bail handle is light weight and designed for many years of service. It's size is easily rolled into your tumpline or carried in your haversack without wasting space. A great addition to your impression.
Size: 4"x4"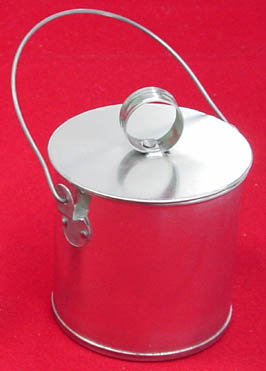 #TP1107 18th Century Trekking Frying Pan $47.25
A socketed frying pan that is great for individual camp cooking. As with our camp pot, this item packs well taking up little space or adding much weight to your load. All you will need to add is a handle. We suggest a green stick of the diameter of the socket.

Size: 5"x 1 3\4"
---
#427 Camp Basin $83.75
These heavy tin basins are common finds for metal detectors in Civil War campsites. From original dug in camp of Rosecran's Division, Southeast of Corinth. They are useful for everything from cooking to washing socks. Top edge is fully wired.

12 inches x 5 1/4 inches high.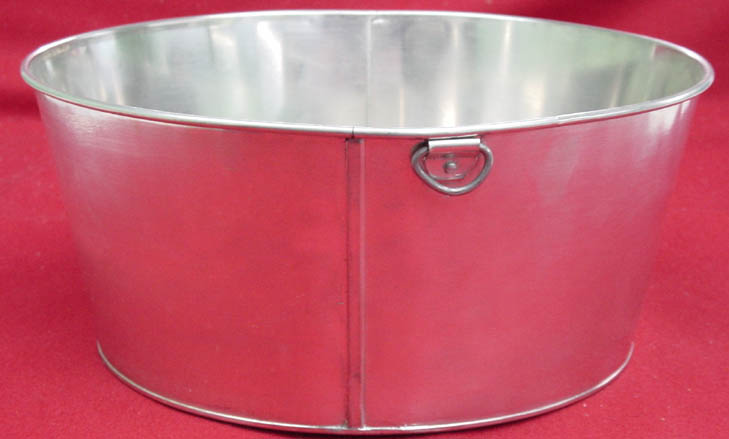 ---
#431 Sheet Iron Frying Pan $48.60
This heavy sheet iron frying pan is the best in the business. It has an iron handle riveted on. The weight of the metal is sufficient to give the good heat dispersion needed to cook food rather than burn it. There is no hint of the modern in this item. 9 inches in diameter with a 10 inch handle.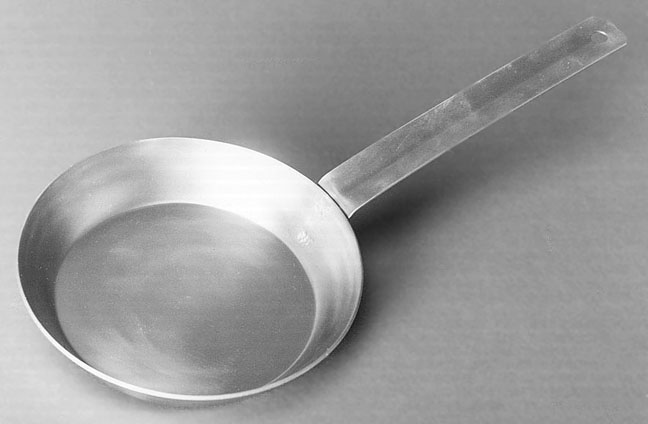 ---
#438 Tin Pail or "Bucket" $74.25
Certainly one of the most common items found everywhere was the tin bucket. This one is hand-made of heavy construction and
will give long service. Historic farms and homes, as well as living historians, have limitless uses for a bucket. The sort of thing
one might steal from a farmer. Useful for keeping water in camp as well as getting it there.

Top diameter 9" tapering to bottom diameter to 6 1/2" Ht. 9 3/4". Holds approx. 2 gallons.
---
#430 Tea Pot (1820's Santa Fe Trail) $108.00
With small wire-handled cup inside. This quaint little affair is being made because of several request. Hard to describe verbally, so
we'll leave it to the photos.

Pot: 6 1/2" base, 3 1/4" high. Cup: 2 3/4" base, 2 3/8" high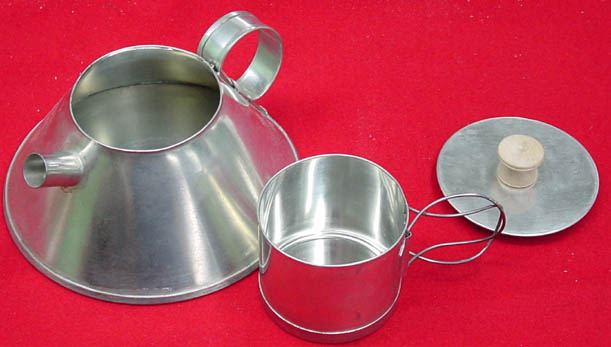 ---
Mess Pan
#RW425 Mess Pan $31.75
Bottom 6" in diameter with a sides angling out to 8" in diameter.
---
We offer other catalogs:
On line French & Indian,
Revolutionary Period & War of 1812
To place an order ...Click Here!

*Check on the Status of your order HERE.
Phone (662) 287-4977 * Fax (662) 287-6033
Mail: --or -- UPS:518 Wick Street, Corinth, MS 38834
---
Happy Reenacting!

©1997-2014 All Rights Reserved and Owned by C&D Jarnagin Co., Inc.